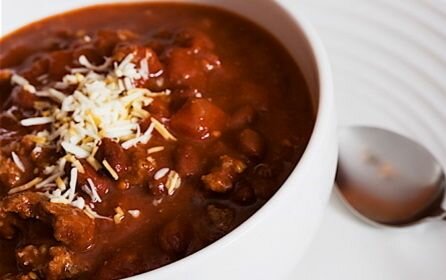 Rare are the days that it's cold enough for soup in Texas (without turning down the A/C). However, today was the rare exception. When we left for church this morning it was in the upper 60s. However, by the time we left service it had dropped 15 degrees (and is expected to drop to 27 tonight). Matt, my friend and a Soup on Sunday follower, offered to make his "almost famous" Texas chili. Instead of ground beef he uses chuck roast (diced into 1 inch cubes), yum! His recipe is loosely base on a Terlingua International Chili recipe. And, while I will admit that I am not completely convinced that beans officially go into chili, this recipe was delicious…especially served over Fritos…it's so good!! I would love for you to weigh in on the beans vs no bean debate. The International Chili Society's Judging Criteria states that Traditional Red Chili, as is defined by the International Chili Society beans and pasta are strictly forbidden. Either way, this chili is yummy! Enjoy.
4 shallot
4 cloves of garlic
3 T olive oil
2 lbs chuck roast, dices 1 inch cubes (stew meat can be used)
1 cup of beef stock
1 cup of chicken stock
8 oz of tomato sauce
1 T Paprika
1 T chili powder
½ t cayenne
½ t black pepper
2 T chili powder
2 T Tony Chachere's creole seasoning
1 t cumin
1 t cayenne (red pepper), or to taste
½ yellow onion, diced finely
1 t garlic powder
¼ t cayenne
1 T cumin
½ lbs pinto beans, cooked (or canned Goya)
Sautéed shallots and garlic in stockpot over med high heat until translucent. Turn to heat to high and add beef; cook until brown. Once meat is brown add beef stock, chicken stock and tomato sauce. Lower heat to med; cover with lid and boil for 10 min. While boiling combine paprika, chili powder, cayenne and black pepper in a small bowl. Add spices to the stockpot. Stir, lower to heat and cover with a fitted lid. Let simmer for 50 min. Combine 2 T chili powder, 2 T Tony Chachere's creole seasoning, 1 t cumin and 1 t cayenne cumin in a small bowl. Add spices to the stockpot and simmer for an additional 45 min. Add onion. Combine garlic powder, cayenne and cumin. Add to the stockpot and cook for an additional 15 min. Add pinto beans. Turn off. Cover and let sit for 15 min. Serve with Fritos and cheese.