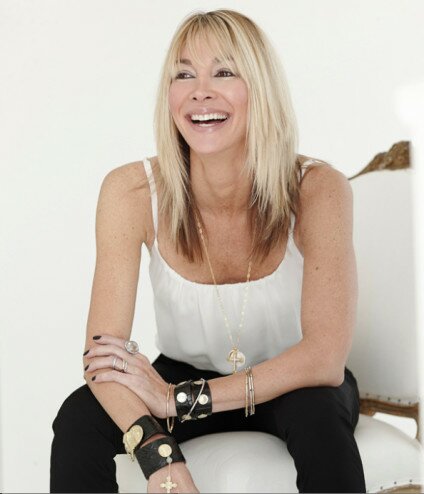 A few months ago I did a post on my talented friend, interior designer, Katie Stassi Scott. This summer Katie launched her own stunning jewelry line after discovering a lack of modern, high-end, spiritually inspired pieces in the marketplace.
As with interior design, Katie's philosophy on accessories and layering is mirrored in her collection. Katie Design Jewelry allows for easily creating a new look by layering in pieces, changing out accessories or adding adornments  "It's my desire to give customers options, while maximizing their investment," notes Katie. The combination is a modern interpretation of classic styles, yet a progressive way of thinking about accessories.
Applying the same principles she employs in her interiors, Katie mindfully designed clever pieces, such as alligator cuffs with detachable jewels for both interest and variety. "I created my cuffs so that consumers could invest in meaningful treasures, yet have options to recreate new looks in a simple way." Just as a cherished antiques adds character to a room, Katie's jewelry adds personality to an outfit. Beyond character, each piece has special meaning.
I am in love with all of Katie's jewelry, but I especially love my charms and wear them almost daily. For one lucky All the Best reader, Katie is giving away her Full Moon Wish charm, the Crown Cross (inspired from an antique crown) and the 20″ gold chain. All you need to do is visit Katie's website and leave a comment on All the Best telling me your favorite piece from the collection and why. One lucky winner will be announce on December 24, 2013.