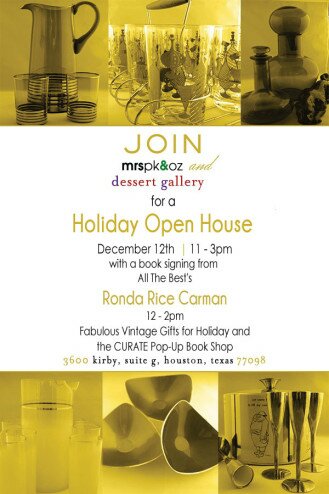 If you are in the Houston area, I would love for you to join me at the very cool MrsPK & OZ for a Holiday Open House and book signing on December 12th.  MrsPK & OZ are the hosts for this fun event. Patti Kagan | aka "mrspk," is a native Houstonian, grew up in an "atomic ranch" style home furnished with iconic mid century furniture. During the design phase of building two homes for her family (one in Houston; the other, a vacation home in Colorado), mrspk became frustrated with having more knowledge of modern design than most of the designers she hired. As a result, mrspk went straight to the source: the dealers. It was through one of the houston mid-century dealers that mrspk met oz.
 Troy Osborne |aka "Oz" grew up immersed in mid-century design while helping his grandfather craft specialty cabinets for some of Houston's most iconic mid-century homes. As an adult, Oz attended estate sales and amassed a valuable collection of mid-century furnishings. Noticing vintage stores popping up around Houston, Oz started to sell pieces to dealers. What started as a hobby turned into a business and earned him the nickname of "hunter—gatherer" of highly sought after iconic mid-century pieces.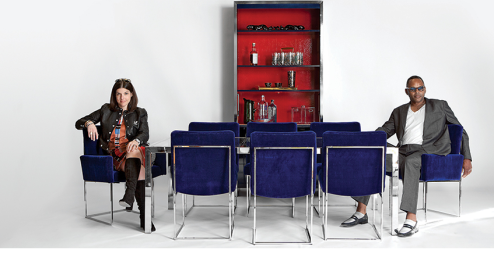 I will be signing copies of Designers at Home on December 12th from 12-2pm | 3600 Kirby Suite G. Do stop by for some holiday cheer and enjoy the beautiful surroundings.