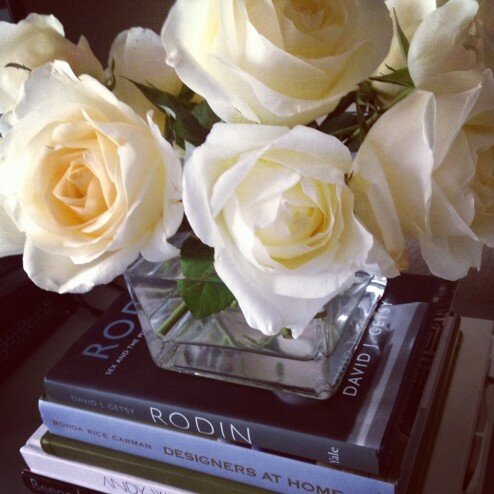 It's hard to believe that it's been seven years since penning my very first blog post. In all honestly, I could never have envisioned the path that my life would take as I typed that first post in January 2007. I am still delighted by the daily journey and grateful for the amazing opportunities that I have been presented. Authoring a book this year has been a life long dream. I am most appreciative to Rizzoli for publishing Designers at Home, my editor Sandy Gilbert (I can't wait to start the next one), Martha Stewart for writing the forward and hosting my New York launch party and to all of you who have supported me over the years. I am still humbled and honored by these events and friendships.
I know that I have been very fortunate. Thanks to All the Best Blog, countless doors have (and continue to) open. Some of the greatest include writing professionally, growing a consulting business and creating new partnerships.
This past year was professionally exciting and personally demanding. The book tour and commuting to the States from Scotland played a nontrivial role in my hectic schedule. And while demands have run high, All the Best Blog is still a great joy and priority in my life and the core of my business success.
For several months I have debated as to whether or not I should share my personal trails and tribulations via this format. But after a move back to the States, long talks with friends and wise council, I decided it was best to be open and honest regarding my divorce. I have built many great and lasting friendships through writing All the Best. There are many people in my life today who deserve much credit for keeping me balanced, grounded, inspired, motivated, encouraged and happy. Thank you, and I do sincerely appreciate your continued support.
As I enter this new chapter in my life, I am both excited and inspired. 2014 looks to be a great year, with many exciting opportunities in the works…for that I am most grateful. Onward and upward.
This year will bring more profiles with favorite designers/tastemakers and blog posts (especially Soup on Sunday). And while it's early days, there are some exciting developments around my book Designers at Home, more books in the works, a potential retail component to All the Best and a few branded lines. Stay tuned…2014 will be the best year yet. I look forward to sharing more with all of you. Again, many thanks for your continued support.