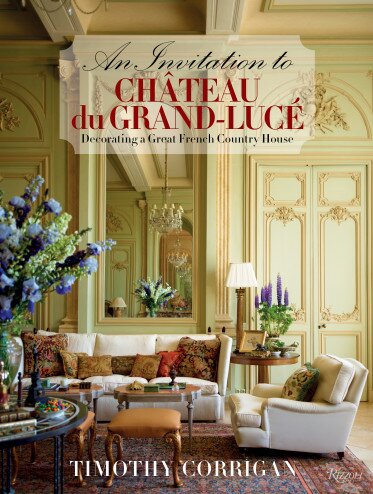 There are so many reasons that I adore fall…cozy cardigans, cooler temperatures, a return to routine and new design books! One of my favorite tomes this season is Timothy Corrigan's An Invitation to Château du Grand-Lucé, a wonderful book detailing his against-all-odds acquisition of an 18th century wreck in the Loire valley. What follows is Tim's painstaking restoration, decoration and journey bringing back to life a glorious private home.
There are many things to love about Tim both as a designer and a person (read more here). And after getting to know him better over the past few years, and learning of his passionate plea to restore his French château, he ranks right at the top of my book.
Tim first fell for the stately structure in 2002. Instantly recognizing its excellent bones,he decided to make the house a home. What followed is a truly inspiring story. For a year and a half he vigorously campaigned the French government for the right to buy the house and return it to its original use as a private residence. From the start he was in competition with many Frenchmen, all who wanted to turn it into a hotel, a spa, or a restaurant. Of course all options would have financially benefitted the tiny Loire valley town in which the chateau stood. However, Tim's vision and determination to restore this architecturally significant structure to its former glory impressed the Les Architectes des Bâtiments de France (the equivalent of the Landmarks Commission) and decided in favor of his plan. In 2004, Timothy Corrigan became the new owner of Château du Grand-Lucé.
An Invitation to Château du Grand-Lucé offers a glimpse into living in an historic home in a modern day way. A must-have book for Francophiles and design enthusiasts alike. And, as a bonus, Tim sent a video tour of the house and book! Enjoy!
Ronda Rice Carman