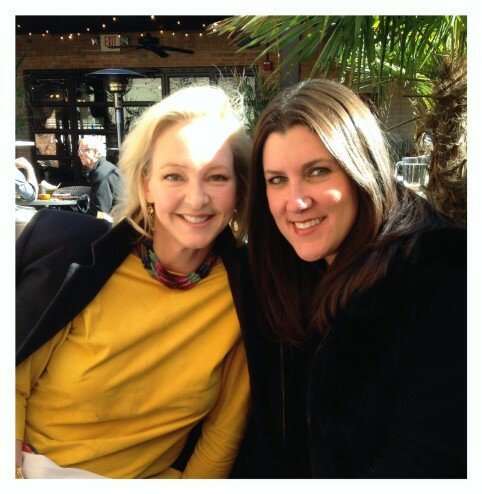 I love serendipitous moments, and this weekend offered one of those wonderful unexpected moments. When last minute plans put both me and Danielle in Dallas on Sunday, brunch was on the horizon. Reservations were made for alfresco dining at Meso Maya and we were joined by friends Matt Whitaker, Kelley Copeland, Amy and Rob Lee (and their little princess). It was by far one of the most fun brunches in recent memory. Not to mention the weather, food and company were fantastic.
Author of bestseller Soirée Entertaining with Style (Rizzoli 2012), contributing editor for Veranda, and lifestyle editor for LuxeCrush.com, Danielle Rollins is quickly becoming one of the nation's leading lifestyle experts. Mixing a dash of glamour with an approachable flair, Danielle sets the standard for Gracious Living and Stylish Entertaining™. Channeling the style of Grace Kelly, the wit of Lucille Ball, and the decorating and entertaining approach of Dorothy Draper (mixed with a little fantasy from the ever-imaginative, flamboyant Elsie de Wolfe)…Danielle is as every bit of fun as the tables she fashions and the life she lives.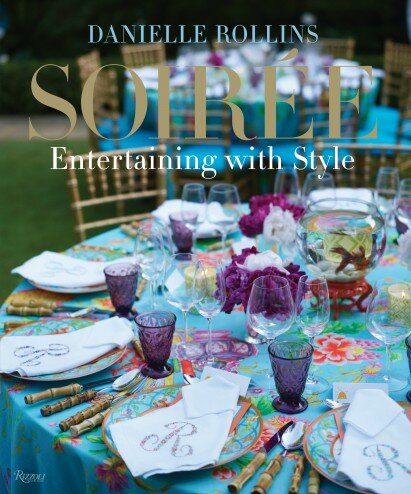 What is one thing that people might not know about you?
Most people don't know the story behind Soiree Entertaining with Style. I completed this book during some of the hardest times in my life – caring for my daughter while she was recovering from a near fatal accident and in the midst of a highly contentious, very public and painful divorce. Quite the opposite of the way most people would approach a large project, but in a way it was very therapeutic.
It all started when I had the opportunity to work with Neiman Marcus and host a dinner at my home honoring Oscar de la Renta to benefit Children's Healthcare of Atlanta – the institution that, along with its caring doctors and nurses, saved my daughter's life. Feeling a little hesitant about doing anything with even the slightest hint of frivolity, I initially had a hard time getting into the planning of the event, but I was dedicated to giving back with 100% effort. In going through the motions, I actually began to enjoy myself. During the benefit dinner, while looking at all the smiling faces around me, I realized that my true joy was back. I had forgotten how great throwing a party could make me feel. And guess who it was that turned to me during the dinner and suggested that I write a the book? Yes, that's right, Oscar de la Renta!!
Almost losing a child made me focus even more on what's important in life: relationships with people, the joy of spending time with family and friends, and the memories that are created. These intangibles can do wonders for the soul. My mission for the book was to capture the emotional quality of entertaining. Many books tell how to entertain with directions, but I wanted to show why with photos. It was truly a labor of love for me.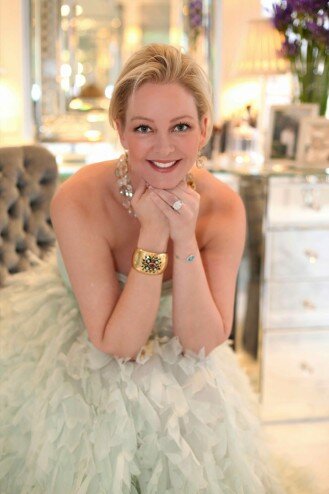 Who are your style icons?
I have always and will always love a classic, timeless, elegant look. My very favorite style icon is an easy choice — Grace Kelly. Her skin tone, eye color, face shape and shade of blonde are all a bit familiar to me…. I've also been influenced in one way or another by Bunny Mellon, Jackie Kennedy Onassis, Sophia Loren and Audrey Hepburn. My Pinterest boards are loaded with vintage style photos and are very reflective of my personal taste and influences. My current leading lady style icons are Aerin Lauder, Viviana Volpicella, Lauren Santo Domingo, Paloma Picasso, and Olivia Palermo.
What is your idea of earthly happiness?
Gardening is one of the only times when I can truly stop, be in the moment, focus and escape at the same time, yet relax! A day spent gardening in my potager with a tall glass of iced tea shaded by a large sunhat alongside my mother and children with my four dogs running around is my ultimate idea for relaxation. The reality is that one child likes to help, one likes to watch, one usually calls me on my cell phone when he wants a sandwich, and the dogs dig up whatever I just planted. Either way, I'm perfectly content. Dirt is therapeutic and plants don't talk back!
Past or present, who has most influenced your direction in life?
My mother for certain. She has been the single greatest influence on me. She raised me with a sense of purpose and drive, which has shaped who I am as a person, who I am as a mother, and who I hope to be throughout the rest of my life. She is the best mother and grandmother anyone could ever have. There is no person more solid that I know.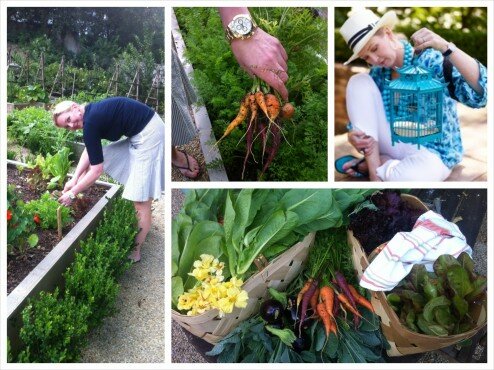 Who would you most like to meet and how would you spend the day?
Can I squeeze more than one into a day?? In my ultimate dream day, I'd meet with Miles Redd in the morning to work on the finishing touches of a Gil Schaefer designed home. Next, I'd head to a fitting of the perfect dress with Oscar de la Renta in his showroom. Then, I'd spend the afternoon in the garden alongside Bunny Mellon (if she were still alive today), cook dinner with Thomas Keller, and for a finale finish, co-host a party with the fabulous Carolyn Roehm.
Who would you most like to collaborate with on a project?
I have been so blessed to work with some of my favorites! Miles Redd, Gil Schaefer and John Howard helped renovate and restore my house, Boxwood, in Atlanta, GA. It was an absolute pleasure from start to finish, and I would do it all over again if I could! There are also so many other designers that I haven't had the chance to work with, but would jump at the opportunity to do so! Mark D Sikes, Suzanne Rheinstein, Howard Slatkin, Alexa Hampton, Mary McDonald, Stephen Gambrel, Alex Papachristidis, Charlotte Moss… the list goes on! That's what is so fabulous about books. The price you pay for that much access to beauty and their expertise is a bargain!
What inspires your creativity?
The best answer to that question is what DOESN'T inspire my creativity! I find inspiration everywhere. I'm a sponge. I soak up everything that I see, read, hear, feel, touch. Being in my head is sometimes overwhelming. It's always going… thinking of ways to do things better, more practical, out of the box. I guess that's the silver lining of ADHD – my input is as good as my output! That's why I love having my website, www.danielledrollins.com, Facebook, Pinterest and Instagram – so I can share my boundless energy and creativity with other people.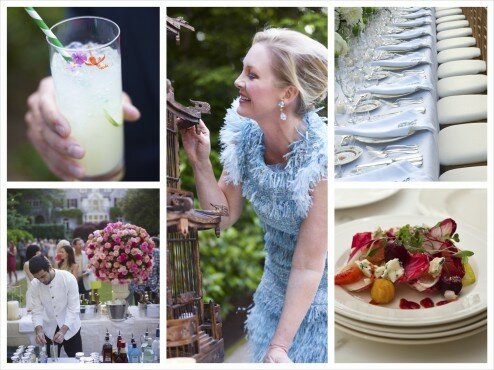 How would you describe your personal style?
My style – in the way I dress, decorate and live – is somewhat traditional, always classic, but with a little avant-garde twist. I've always been someone who has never followed other people. I love classic designs, the tried and true, but I bend towards things with a distinct flair, and I adore color! I strive to dress in a manner of wearing what looks good on me, clothing that fades into the background which allows me to stand out, and my accessories to do the work. Never in a way that is "fashionable." I decorate and design much in a similar way. If you get the basics right, then you can focus on what makes you happy for the rest! I live in a way that is comfortable, inviting and warm, but most of all gives me a sense of joy. I love anything that is well made and has a sense of timelessness — things that last and things that have sentiment.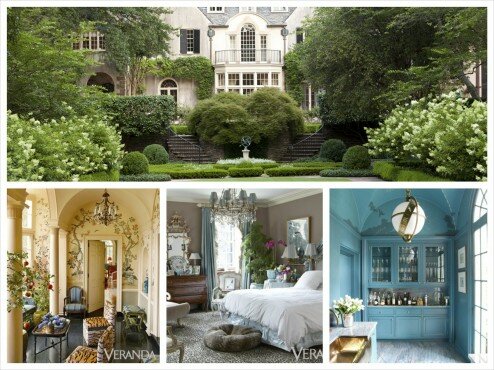 What is your most prized possession?
My home, Boxwood. I stalked the house for years, and it was a four-year renovation/restoration, a labor of absolute and complete love! Every inch of it has my own stamp on it. It gives me joy no matter what room I walk into or where I sit in the garden. While I enjoy my house by myself, I really enjoy it with other people when I entertain. I've opened it up several times for tours and nothing gives me a greater sense of pride than having other people gain pleasure by experiencing it's beauty. This is my forever house – it was designed for living in it now as well as the future. One day I hope to have eight grandchildren running around, but that's a little far away. Now, I get to enjoy it with my three children, four dogs, two cats and ever-changing menagerie of pets!
Profile by Ronda Carman