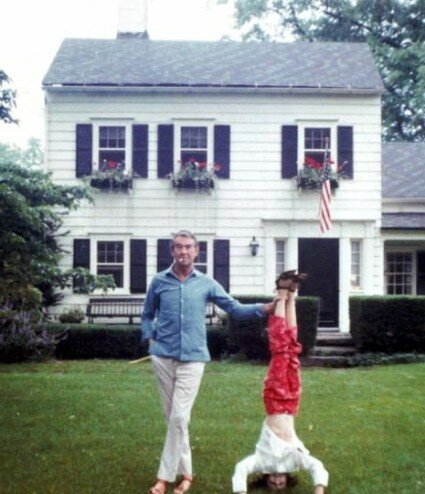 Four years ago I posted this wonderful photo of Slim Aarons and his daughter Mary taken on Memorial Day. Now it's become my yearly tradition to repost the image and back story on All the Best. After I first posted the photo, much to my delight, Mary emailed me to share more information about this photo and her father.
Mary wrote, "Your timing of this photo is quite fitting. My dad died the day after Memorial Day. Oh how he loved his window boxes. Each week he would spend hours planting geraniums and vinca. Even though he is on the other side of the camera, don't think he did not have a hand in orchestrating that photo."
In addition to his celebrated status as a society photographer, Aarons enlisted in the U.S. Army at the age of 23. He served as a combat photographer in World War II, earning a Purple Heart.
Since posting this photo Mary has become a true friend and I person that truly adore. After a long distance friendship Mary invited me to her home for Memorial Day two years ago. A very fitting weekend and holiday to meet in person. What I still love most about blogging is the wonderful people whom I have encountered and the friendships that have developed – Mary is no exception.
I will always be grateful to Mary, Robert and her mother Rita for hosting me and treating me to such a lovely weekend. Thank you too Mary for keeping your father's memory alive.
I am thinking of everyone today as you attend parades, picnics and memorial services to remember and honor our military men and women who have died in battle.