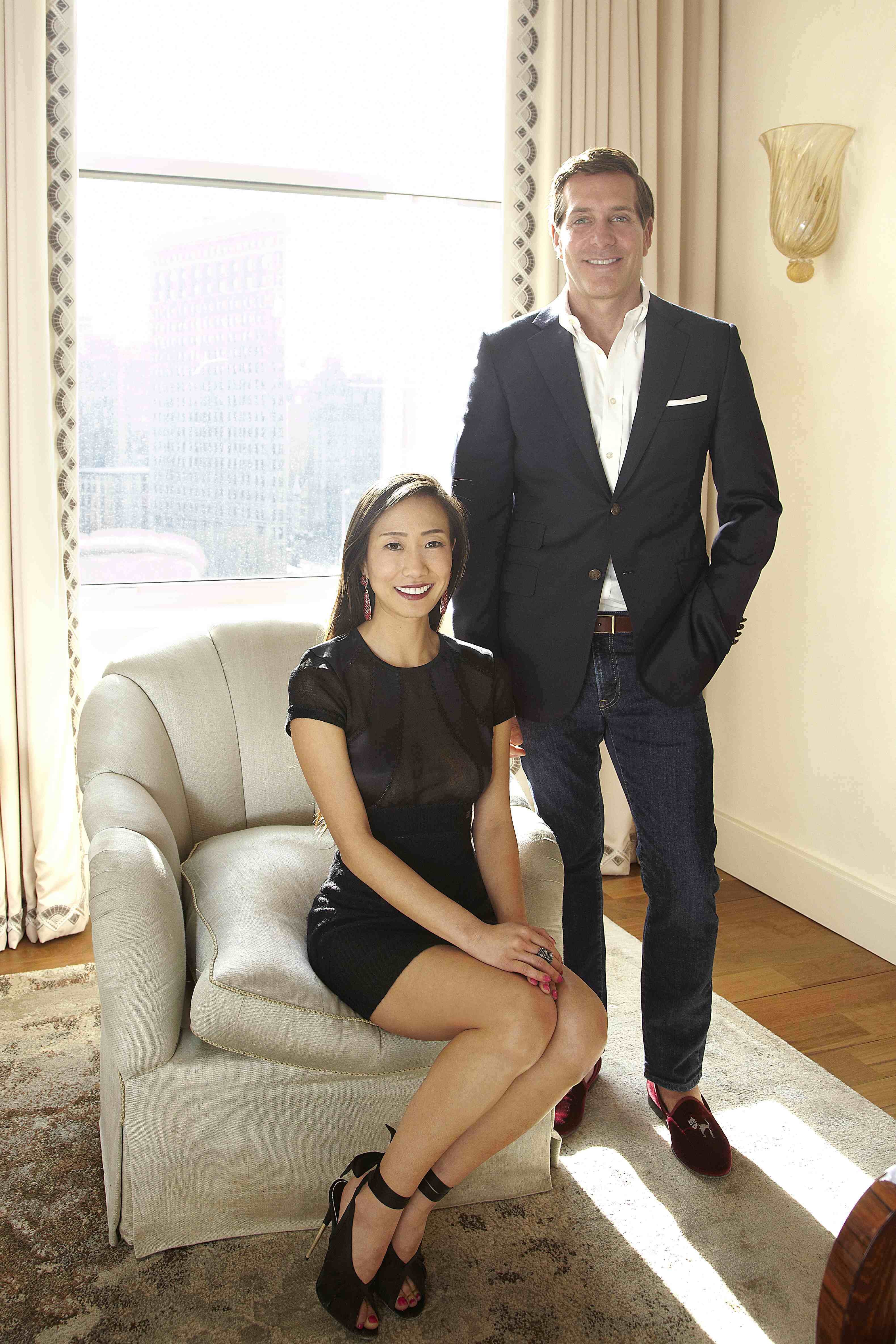 Perhaps the only thing better than a lively brainstorming session is seeing seeds planted and great ideas take shape. A few years ago at the Avalon hotel in L.A., my friends Christian Leone (former VP of communications at Armani) and Malcolm James Kutner (the supremely talented interior designer) and myself played a poolside version of the "what if" game. You know the one: "What if you could start your own business?" "What if you could do anything that you wanted in life?" At the time Christian had a few ideas for an online venture, but was still searching for the perfect pieces to the puzzle.
Fast-forward two years and enter the fabulous Leah Park, Christian Leone's business partner. The answer to the "what if" question for Christian and Leah is a new online company is called VAUNTE (www.vaunte.com); an exclusive interactive luxury shopping site that allows you to shop the closets of some select and very stylish women (Lela Rose, Hermès PR director Cena Jackson, Liz Goldwyn, Jennifer Creel, Carolyne Roehm, Veronica Swanson Beard). Fancy a gently worn Lavin dress for $250 or nearly new Chloé sandals for $75? You'll find them and a lot more on Vaunte (think luxury consignment shop with very fashionable offerings).
Both Gilt veterans, this dynamic duo have crafted a stellar business concept, while creating enormous online buzz. Though Christian is quick to credit Leah with the "brilliant idea", the talented twosome fully complement one another and are extremely savvy when it comes to fashion.
Recently while in New York, photographer Gerardo Jaconelli and I spent a fun day photographing Christian and Leah at a stunning apartment in the Flatiron District designed by Malcolm James' Kunter for a client of his and a friend of his and Christian's. The sunshine, the serene interiors and the vista of the Flatiron building all came together to create a perfect backdrop for the photo shoot. And, even better, all of Leah's clothes featured in the photos on All the Best are going on sale today on Vaunte. Also, the closet of the super talented and stylish interior designer Kara Mann will be featured on Vaunte today.
To see these fabulous finds and more go to Vaunte and sign up to become an exclusive member of this online community. You will not be disappointed. It's truly a carefully curated collection of all the best.
How would you describe your personal style?
CL:  Bespoke Prep
LP:  LA vintage rocker meets NYC black and sassy
What is your most prized possession?
CL:  Eyesight
LP:  My ADD tendencies, which keep me moving and constantly exploring other things
What is your idea of earthly happiness?
CL:  A sunny day and a heated pool; I will tan all day long
LP:  Surfing on warm waves at sunset
What is the one thing in life you cannot live without?
CL:  Roasted Chicken and custom Vans
LP:  Karma. Thank god for Karma!
What inspires your creativity and designs?
CL:  Traveling to beautiful locations
LP:  Inspiration is for amateurs. I don't like to be influenced by what's already out there. I need some distance from what's going on to in order to get into a clear headspace for dreaming up new ideas.
Who are your style icons?
CL:  Duke of Windsor, Gianni Agnelli, Cary Grant, Robert Redford, George Hamilton (in the 1960's) and Dickie Greenleaf
LP:  Carine Roitfeld and Kate Moss
Who would you most like to collaborate with on a project?
CL/LP:  Gwyneth Paltrow
What books are currently on your bedside table?
CL:  There are no books, just stacks of magazines and newspapers (GQ, Vanity Fair, Architectural Digest, Elle Décor, House Beautiful, WSJ, NY Times, FT, WWD)
LP:  Erik Larson's and Murakami's
What is your favorite luxury in life?
CL:  A comfortable bed packed with down pillows and 400-plus thread-count bed linens
LP:  Long sabbaticals involving a bikini, a remote beach and no wifi connection
Past or present who has most influenced your direction in life?
CL:  Eleanor Lambert, she was very influential in helping me begin my career in fashion; Michelle Stein is a huge mentor to me currently.
LP:  My professor David Luce, who convinced my parents to send me to design school; Clive Owens; another professor, who hired me right out of school and sent me to NYC; and my sweet, kind, grandmother.
Images – Copyright Gerardo Jaconelli
These images may not be reproduced, copied or manipulated without the written permission.